For twenty years - first as a student, then as a professor in the United States, and now as a lecturer at the Queen's University in Belfast - I have been researching Hungarian actor Bela Lugosi. Every old, yellowing clipping, every interview with anyone who knew him, every film he made... an attempt to find out all that can be found out about the man who became a cultural icon in the United States for creating the role of Dracula on the stage and in Hollywood films, and in so doing helping to create the US horror movie.
Lugosi remains famous in the United States in 2006, a year which is the fiftieth anniversary of his 1956 death and the seventy-fifth anniversary of his film DRACULA (1931). In recent years, actor Martin Landau won an Academy Award for portraying Lugosi in Tim Burton's film ED WOOD (1994); a few years later, the US Post Office honoured Lugosi by putting him on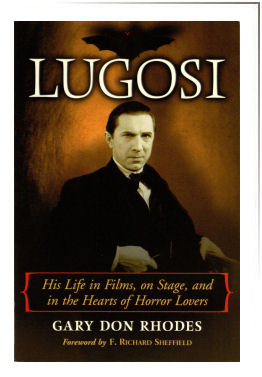 a postage stamp. In 1999, famous avant-garde composer Philip Glass wrote a new music score for Lugosi's film DRACULA. All of this is in addition to regular reissues of his films on DVD and reappraisals of his work in horror film magazines and academic film manuscripts.
Along with numerous articles in film magazines and various lectures, my research initially culminated in a book entitled LUGOSI (McFarland, 1997) that attempted to index all of his films, stage plays, radio and television appearances, and other aspects of his life and career. Marriages, divorces, lawsuits, agents: everything I could find to catalogue, I did.
Right after the book, I then wrote and directed a documentary film entitled LUGOSI: HOLLYWOOD'S DRACULA. It was a combination of carefully chosen clips from his movies and filmed interviews with many of his friends and co-workers. These ranged from his son and last wife to such legendary Hollywood directors as Robert Wise and Joseph H. Lewis. The film made its official premiere at the Hollywood Film Festival in 1999, and has since been released on DVD.
And then even more Lugosi. In 2002, my second book about him appeared in print. Rather than a biography of a man, though, the second book was a biography of one of his most famous films, WHITE ZOMBIE (1932). The movie was the first zombie film in Hollywood history, and it became the most successful US independent film of the 1930s. It lingered in US culture because of regular reissues and television broadcasts, as well as a 1990s rock band that took their name from the film's title. My book on the subject was released as WHITE ZOMBIE: ANATOMY OF A HORROR FILM (2002).
The books and the film were both well-received, and I then switched my attentions to other research projects. These included the books HORROR AT THE DRIVE-IN: ESSAYS IN POPULAR AMERICANA (McFarland, 2003) and DOCUFICTIONS (McFarland, 2005), as well as the films BANNED IN OKLAHOMA (2004), WIT'S END (2005), and SEAWOOD (2006).
But though I moved onto other topics, my interest in Lugosi never wavered. He was such an enigmatic performer who commanded the screen in a way that few actors in Hollywood have ever managed to do. He has been appropriately called "Hollywood's Dark Prince" and the "Master of Horror," and I have always enjoyed seeing his films in repeat viewings.
And so I was particularly excited when another author released a new biography of him in 2003 entitled THE IMMORTAL COUNT. As a researcher and an academic, there is always an excitement when another scholar adds to the body of knowledge. But in this case, the book was a mere repetition of material previously-published elsewhere.
It was my immense disappointment in that book that actually led me to my current project, a new book entitled FINAL CURTAIN: THE LAST YEARS OF BELA 'DRACULA' LUGOSI, which will be published in the United States in 2007 by McFarland and Company. Though the other author really hadn't added anything new to the body of knowledge, it occurred to me that there were still a great deal of areas of Lugosi's life and career that had not been pursued. And so I became energized to do just that and incorporate the material into a final book.
The focus on Lugosi's last years in the 1950s comes from several factors. They were a fairly tragic period for him, as he was receiving few roles and was in financial trouble. He was in his late sixties and early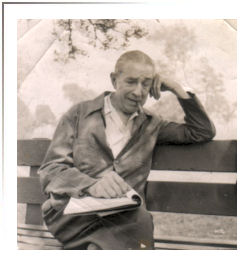 seventies and in ill-health. He went through a divorce and then remarried into an unhappy relationship. And he was addicted to prescribed medicines for pains in his legs and back, which led to a public announcement of his desire for drug rehabilitation. Unhappy years, but fascinating and important nonetheless.
From a research standpoint, the focus on his last years emerged partially out of the impulse to conduct oral histories with all of the still-living persons who knew him or worked with him. They are increasingly few in number, and capturing their memories before they are all gone is important. After all, those who knew him in eras before the 1950s are nearly all deceased.
Exploring the remains of his US career and the focus on his last years has taken me from New York to California and so many US states in between: Massachusetts, New Jersey, Connecticut, Ohio, Arizona, and so many others. It has meant working with archives of all kinds, ranging from film and television to US politics. Lugosi had been quite politically active at times, and I've recently obtained even his FBI file.
But the curious factor about spending a great deal of time with these people who knew him in his final years suggested a particular direction for the research. Along with the focus on the day-to-day activities of his last years, I began to understand the need to re-examine his earlier years because they consumed so much of his time towards the end of his life. He was constantly remembering the earlier times, the better periods of his life and career.
Lugosi came to America in the early 1920s, but had never forgotten his Hungarian roots in the town of Lugos. He regularly spent time with fellow Hungarian immigrants, and many of his closest friends in the US were of Hungarian descent. He also worked for various Hungarian-American causes, particularly during World War II. Even his final apartment in Hollywood was situated in an area that was populated largely by Hungarian-Americans.
And so curiously my book's focus on Lugosi's last years has led me to research the earliest days of his life and career. Two years ago, a colleague and I visited his hometown Lugos (now Lugoj) to conduct research. And at present I'm embarking on a journey to Budapest to examine materials related to the six years he spent at the National Theatre (1913-1919), as well as provincial theatre programs from his pre-1910 work on the stage.
Lugosi spoke always with pride about his work on the stage in Budapest and at the National Theatre. Like so many film actors, he seemed to prefer the theatre. In particular, he valued the variety of roles he portrayed in Budapest that had him cast in large and small parts, as hero and villain, in comedy and drama. After becoming Dracula in the US, he found it difficult to be cast in anything other than sinister roles in horror movies.
But when it came to mentioning specific roles in specific plays, Lugosi spoke repeatedly of playing the lead in Shakespeare's ROMEO AND JULIET. And yet the records for the National Theatre in Budapest do not show him ever playing that part. Instead, it was one of many roles that he played during 1910-1911 in Szeged, a period before he ever went to work in Budapest. What this means is that in his later years in America he was regularly recalling particular plays and audiences not only from his days in Budapest, but also from Szeged.
For myself, as a non-Hungarian speaker doing research on Lugosi, this posed a severe challenge. How to learn more about Szeged during the time Lugosi was there? How to determine a full and accurate list of his Szeged theatre credits? And how to understand what critics and audiences thought of his performances? To gain access to such crucial information, information unknown in the US, would be extremely time-consuming and difficult.
Finding details of the Vasvary Collection at the Somogyi Library online solved everything. An email to Maria Korasz and the entirety of Lugosi's life and career in Szeged began to crystallize as a clear picture. Using the library's and the collection's archive, she kindly sent articles and critical reviews. She also crafted a far more accurate and complete list of his credits in Szeged than has ever been compiled, including details of the occasions on which he became Romeo for Szeged audiences.
For a book on the final years of actor Bela Lugosi, Maria Korasz and the Vasvary Collection have provided crucial information on Lugosi's first important stage triumphs, triumphs he remembered and spoke about decades later and thousands of miles away. This information has not only been invaluable to me and my book, but will be treasured by the thousands of fans and scholars around the US and the globe who are fascinated by Bela Lugosi.
FINAL CURTAIN: THE LAST YEARS OF BELA LUGOSI, which will include a very heartfelt thank you to Somogyi Library and the Vasvary Collection, will be published in Spring 2007.